Drs. Domnick Manhas and Tony Wan
By Drs. Domnick Manhas and Tony Wan on August 23, 2023
It is estimated that 15% of all cancer patients will develop VTE, resulting in significant morbidity and mortality. The cost of cancer-associated thrombosis is substantial to the healthcare system. Currently, routine thromboprophylaxis is not recommended given the fear of increased risk of bleeding, modest absolute risk reduction in VTE, and inconvenience. However, a selected group of cancer patients with very high VTE risk will benefit from thromboprophylaxis.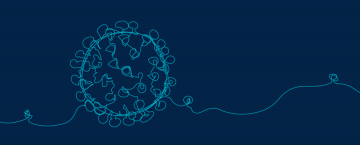 By Drs. Alejandro Dau, Agnes Lee, and Tony Wan on February 22, 2022
COVID-19 is associated with an increased risk of venous, arterial, and microvascular thrombosis. Early reports documented high rates of venous thromboembolism (VTE) in hospitalized patients with COVID-19, with pooled incidences of 20-30%, despite standard-dose thromboprophylaxis. Multiple randomized control trials (RCTs) have sought to determine the safety and efficacy of therapeutic anticoagulation in both critically ill and non-critically ill hospitalized patients with COVID-19.